Brake Problems
Are you having brake problems? Are your car brakes making chirping or whistling noises? Or grinding brake noise? Your car brakes will often let you know when it is time for brake repair. Did you know that many vehicles are equipped with a small piece of metal attached to the brake pad to act as a warning indicator when the brake pads need replaced? When you press on your car brakes, the device makes a chirping noise - which means it is time of have brake service for your make car, truck, van, minivan, or SUV.

Common Brake Repair
Whether you need a simple brake check, need to replace brake pads, or need a full brake job and service, Jeff Wyler Chrysler Jeep Dodge RAM of Springfield is equipped with modern service bays with the proper diagnostic equipment to help inspect and identify any brake problems you have, and to then fix and repair your brakes so that your automobile is in safe operating condition. We will fully inspect your car brakes and identify what is causing the brake noise or your brake pedal pulsation. Common brake problems we find include heat cracked or worn brake rotors, worn brake pads, loose fitting or damaged noise insulators, loose fitting brake pads in the caliper, and uneven torque of lug nuts or caliper hardware. Our service department uses genuine OEM MOPAR parts and accessories to fix your brakes to ensure the safest performance of your automobile.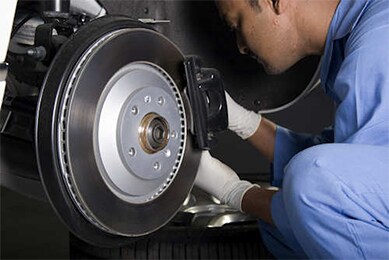 Service Brakes Appointment

Call Jeff Wyler Chrysler Jeep Dodge RAM of Springfield to schedule your brake repair appointment, or use our convenient online service appointment scheduling tool. You can check our hours and directions to find our location and convenient hours. We often feature brake repair specials and coupons, so take the time to check our service specials that are updated monthly.
Brake Pads Replacement
Each time your car brakes are used, the brake pad material wears down gradually. That means your brake pads should be periodically inspected (which is part of the scheduled maintenance) and replaced as necessary. If you fail to replace the brake pads before the friction material is completely worn away, then direct metal to metal contact can occur, damaging your brake rotors and resulting in a much more expensive brake job. Our friendly service technicians can assist you with inspecting your brakes and identifying the proper repair, as well as providing an estimate of your brake repair cost.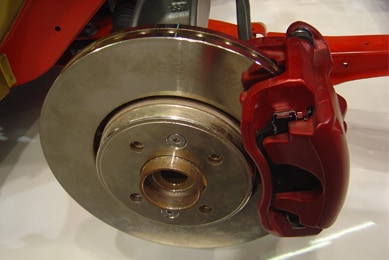 Your Chrysler Jeep Dodge RAM Brakes Expert!
Jeff Wyler Chrysler Jeep Dodge RAM of Springfield has more online positive ratings than most other greater Dayton Chevrolet dealerships. When it comes to brake repair, we have highly satisfied customers from throughout Ohio, Kentucky and Indiana, including Dayton, Springfield, Columbus, Urbana, Troy, Fairborn, Piqua, Yellow Springs, Huber Heights, Xenia, Beavercreek, Kettering, Bellefontaine, Wright Patterson Air Force Base, Tremont City, Lawrenceville, and Northridge. The safety of you and your family is paramount to Jeff Wyler - come visit Jeff Wyler and join our family of highly satisfied customers!