Let a certified Chrysler Jeep Dodge RAM advisor help you if you are looking for Chrysler Jeep Dodge RAM tires for sale. At Jeff Wyler Chrysler Jeep Dodge RAM of Springfield, we carry the OEM recommended tires for Chrysler automobiles, as well as alternative discount tires that can save you additional money.
Call us and our Chrysler parts and accessories advisor will identify the correct tire size for your Chrysler Jeep Dodge RAM when you provide the year, make and model of your vehicle. We can provide tire prices for both the Chrysler recommended tires, as well as discount tires for your consideration. You can also contact us online at our Chrysler Jeep Dodge RAM MOPAR parts and accessories page, or visit our parts department in person at Jeff Wyler Chrysler Jeep Dodge RAM of Springfield. Our hours and directions page will show you how to find our location during our convenient hours. Note that we can also take care of the disposal of your used tires for a small fee. These used tires are then sent to a recycling center on your behalf.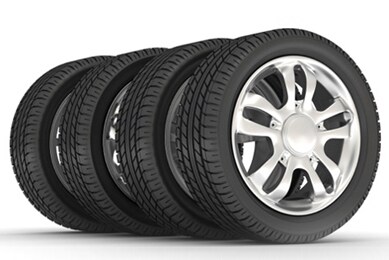 Tires for Sale in Springfield OH
It can be confusing when you are shopping for tires for sale in Springfield OH. Remember, the tires on your Chrysler Jeep Dodge RAM or other vehicle are incredibly important, providing safety for you and your family by providing optimal traction and handling, as well as comfort for both on-road and off-road driving. Your first decision is whether you need new tires, and the "penny" test is a quick indicator to help you. Take a penny and stick it into your tire tread. If part of Lincoln's head is covered, you should be okay, but if you can see all of Abe's head, it is time for some new tires. Don't forget to check for uneven tread wear across the tire, as you might have sufficient tread on one part of the tire, but not on the other.
If you need new tires in Springfield OH, call Jeff Wyler Chrysler Jeep Dodge RAM of Springfield and we will determine the tire type, tire width, aspect ratio, construction, and rim diameter of the tires for your Chrysler Jeep Dodge RAM or other car, truck, van, minivan or SUV. There is also a speed rating on the tire, but this should not be much of an issue unless you have a high performance sports car. It is very important that you buy the right size and style tires for your vehicle to ensure optimum performance and to avoid costly repairs in the future. Our Jeff Wyler Chrysler Jeep Dodge RAM of Springfield parts advisor can help provide tire price quotes on both Chrysler recommended tires and discount tires, and assist you with your decision in balancing quality and price to provide the best tire deals in Springfield OH. While cheap tires may be inexpensive, one must balance the safety, performance, and reliability of cheap tires versus better quality tires.
Wheels, Rims and Tires in Springfield OH
Jeff Wyler Chrysler Jeep Dodge RAM of Springfield has a large inventory of wheels, rims and tires in Springfield to choose from. Visit our parts and accessories department to find custom wheels, chrome rims, and much more for your Chrysler Jeep Dodge RAM. Our service department also handles wheels and tire repair in Springfield OH, to include fixing flat tires, plugging punctured tires, tire patches and more. When you visit our location for oil changes, we make a routine check to ensure you have proper tire pressure and tire maintenance to ensure your vehicle is in safe operating condition.
Car Tires in Springfield OH
Jeff Wyler Chrysler Jeep Dodge RAM of Springfield has more online positive ratings than most other Ohio Chrysler Jeep Dodge RAM dealerships per DealerRater.com. When it comes to Chrysler tires for sale, we have highly satisfied customers from throughout Ohio, Kentucky and Indiana, including Dayton, Springfield, Columbus, Cincinnati, Urbana, Troy, Fairborn, Piqua, Yellow Springs, Huber Heights, Xenia, Beavercreek, Kettering, Bellefontaine, Wright Patterson Air Force Base, Tremont City, Lawrenceville, and Northridge. The safety of you and your family is paramount to Jeff Wyler - come visit Jeff Wyler Springfield Chevrolet and join our family of highly satisfied customers!